I haven't been to a wargames show before, but Salute's been on my "to do" list for a few years - and yet life has repeatedly gotten in the way of being able to book. 2015 was when I could finally go along with a friend, and it was worth the wait.
Essentially it's a large hall with 150 trade stands, and a lot of demonstration games running throughout the day - visited by ~6000-8000 people in a 7 hour period. You're encouraged to participate and spend. That's the facts, but it would do the whole day a disservice with just that description, it was a lot of fun.
As grown men, our teen nerds and adult wallets were unleashed in combination and we spent a good five hours walking around, looking at games we'd never heard of, skim-reading rulesets and getting excited about figure ranges we'd never seen.
The haul for the day as follows: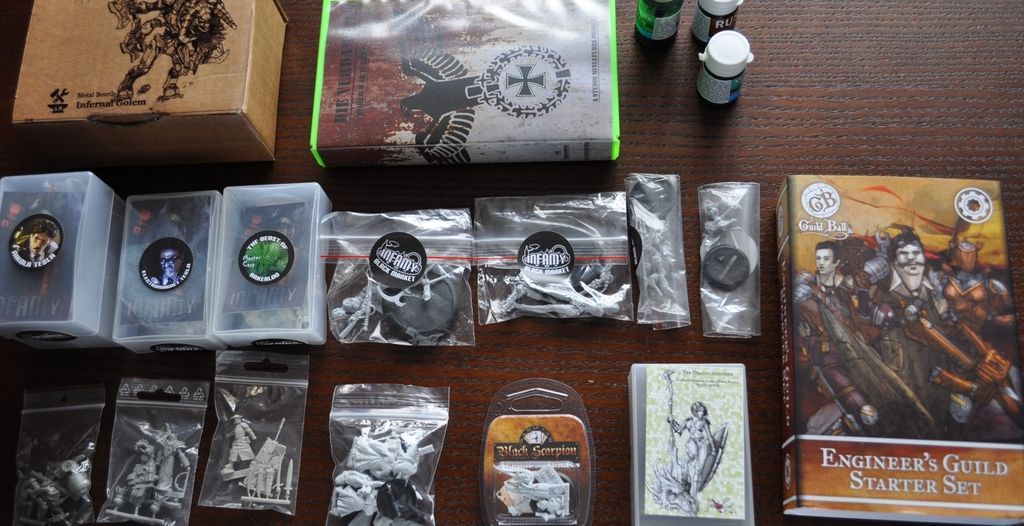 Top row: Infernal Golem (Titan Forge), Nazi zombies (Studio Miniatures), Weathering effects (Modelmates)
Middle row: Infamy ton* (Infamy), Engineers' Guild (Guildball)
Bottom row: Dimitri, Ivan and Hell'ington standard bearer (Blight Wheel), Hired Hands and Salute 2015 Limited Edition (Black Scorpion), Dragon Huntress (JoeK)
* Mine was missing the deck of cards, which was the primary item of interest but I've mailed them to ask if it's still available. Sadly I consider this my own stupid fault for not checking there and then :(
The single downside to the event was people with massive rucksacks and no understanding that it doubles the depth of where they're standing, or how frustrating it is to be behind two of them and unable to see anything. The conference equivalent of getting the basketball player in front of you at a concert. Everything else was pretty good, from queuing to go in, to every booth being filled with enthusiasts ...
... which leads nicely on to my highlights from visiting the booths.
Obviously that wasn't everything, just the handful of store highlights from my perspective. The hardest part of the show was picking the stands I could justify spending money on this year, and the silver lining was starting to build a list for the coming year.
Other things that occurred ... someone was dressed and looking uncomfortable as a 10 foot Space Marine, Stormtroopers were walking around - but they looked a little short to be a stormtrooper to me. Rick Priestly was there talking up
Antares
. I was very grown up and didn't run over to bear hug and thank him for a postcard he sent in reply to a rule query that age 12 me wrote to Games Workshop in the late 80s. That's restraint, right?
See you there next year.