Having backed
Guild Ball
during its
Kickstarter inception
last year, it was very exciting to see the game realised and figures turn up in a box this April. In all the excitement I ordered the full eight teams, but not all the available figures, and realised it would be quite a task to get everything painted.
If you haven't played or aren't aware of it, it's a tactical skirmish game as a football/rugby hybrid with points awarded for scoring goals or taking out the opposition. Or if it's easier, call it Leeds United :) Quick to get to grips with, but suspect we'll spend years understanding the mechanics. Our gaming group is loving the skirmish format and how it can suddenly shift from a swift, tactical battle of wills to something more attritional with just one or two kicks of the ball.
Your starting lineup is comprised of a Captain, a Mascot then other players. No points values, it's down to your style and potentially who your opponents are. While I may occasionally post up a game report, the initial focus on my blog is to go through the painting process so first up, a shot of all the teams ...
Teams top left to bottom right:
Black
- Morticians, bright
Red
- Butchers,
Purple
- Union,
Blue
- Masons, dark
Red
- Engineers,
Green
- Alchemists,
Cyan
- Fishermen,
Yellow
- Brewers. Union can draft certain players into the other teams, or be played on their own as the eighth team.
The team behind the game have released a couple of limited edition models outside of the standard rosters - an alternative Boiler, (available from shows during 2014), Kraken (shows during 2015) and Minx (Ax Faction cross-collaboration). In addtion, if you were on the Kickstarter then several of the sculpts are exclusive to that - mostly the team Captains. The only one missing from my collection currently is Minx - but that's fine.
To make the teams more portable, I've reboxed everything in extra deep business card cases thusly ...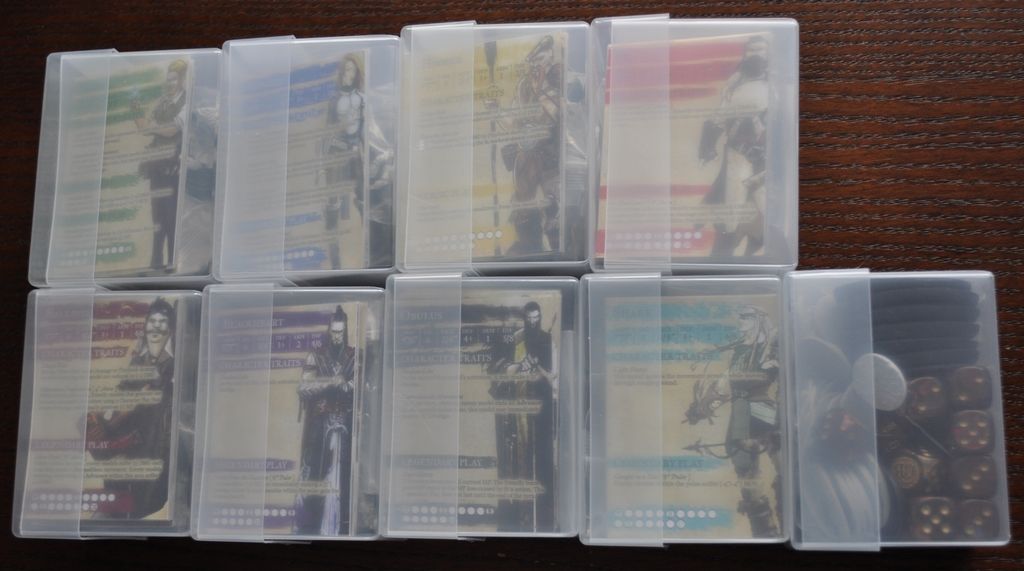 Not sure if these will be sufficient in size once all teams are fully assembled, but we shall see.
As I occasionally play Magic, and have kids, keeping cards in good condition is paramount and it was pleasing to discover the player cards are only about 1mm wider than Magic cards! So all the character cards were double sleeved with
KMC Perfect Size
sleeves from top down then into
KMC Hyper MAT Clear
sleeves bottom up. Extra sleeving makes them less bendable and doesn't compromise the visibility of rules or detail on the cards, so they should remain in excellent condition for quite some time.
I'll start to paint up a couple of the teams in the coming weeks, as playing with painted miniatures is more fun than unpainted figures or paper proxies. There will be WIP posts too, rather than just finished teams.